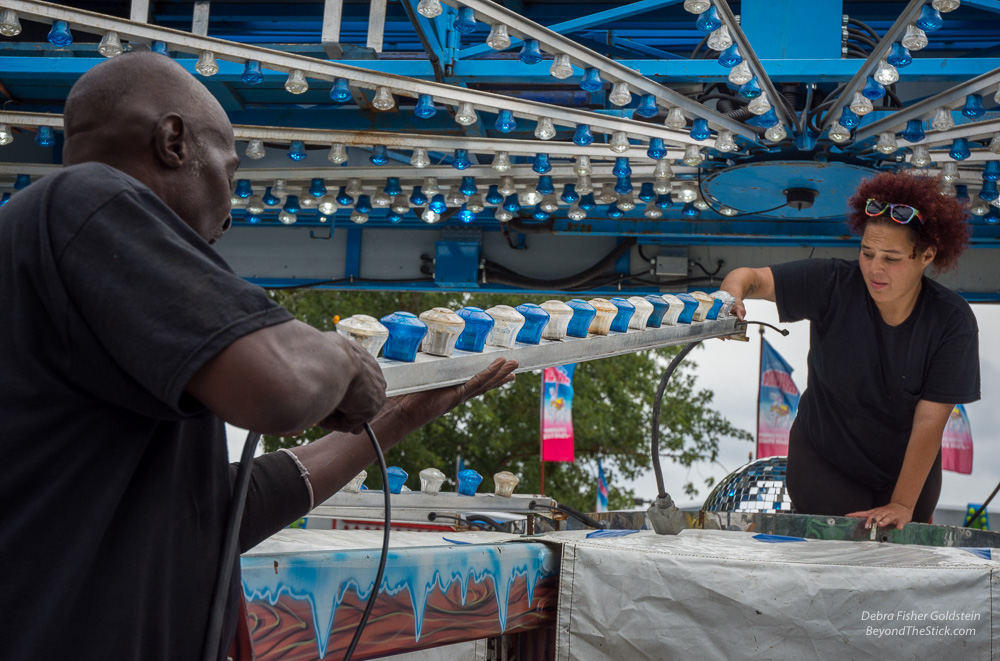 Jazzmine and James, both of Dallas, Texas, were surrounded by blue and white bulbs. Hundreds of them. More than Jazzmine and I could count. She was on task, and I couldn't do the math. It was two days before the opening of the Fair, and they were in sync repeating the tedious job of setting up "The Beetle Bobs" on the Kidway.  Over and over they unpacked and gently set into place the "sweeps" – the long beams that light up the spokes of the ride.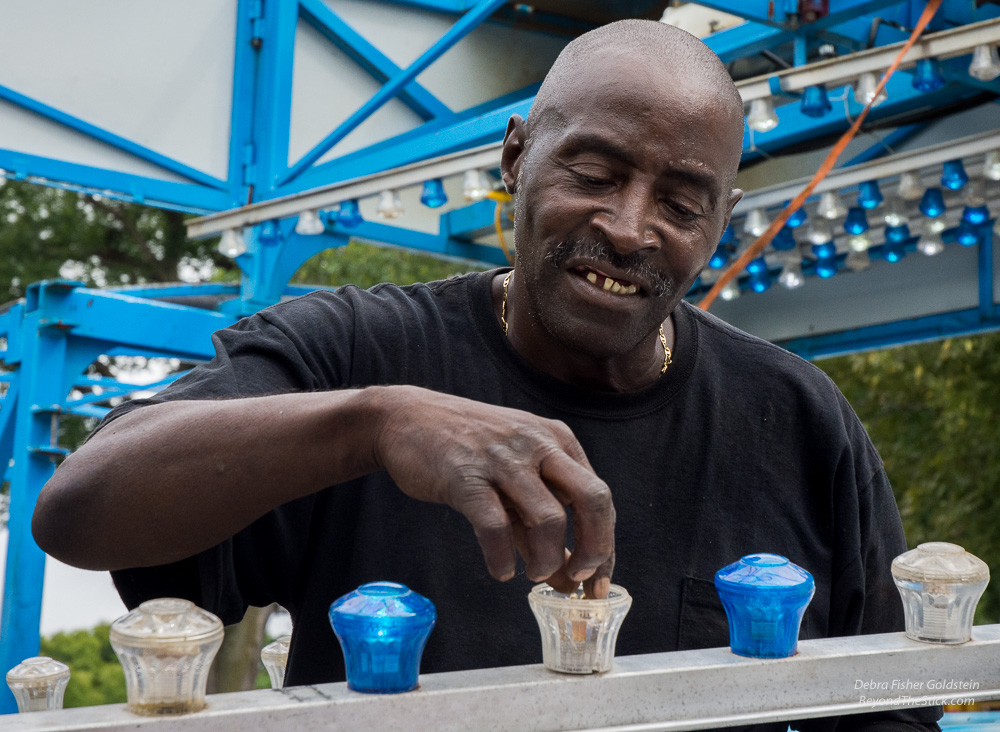 Each sweep –  and there are 17 of them – needed to have every light inspected, and there are 16 lights on each sweep. Often the internal circuitry in the light needed to be replaced, which required an eternity of patience and fine finger dexterity. "It's mostly water that makes them go bad," said James.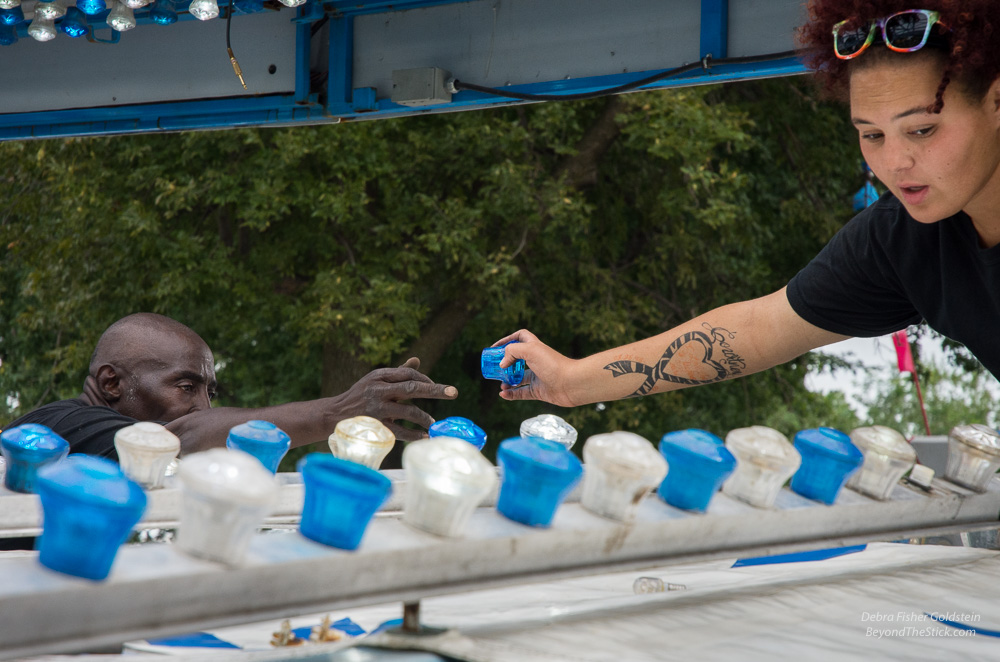 Neither James nor Jazzmen spoke much. They just keep moving onto the next sweep, and the next bulb. They had already hung all the overhead lights. Again, I wanted to know how many bulbs were on the Beetle Bob? They didn't know. Perhaps it was too discouraging to know. I swore I would never curse a single blown lightbulb in my house again.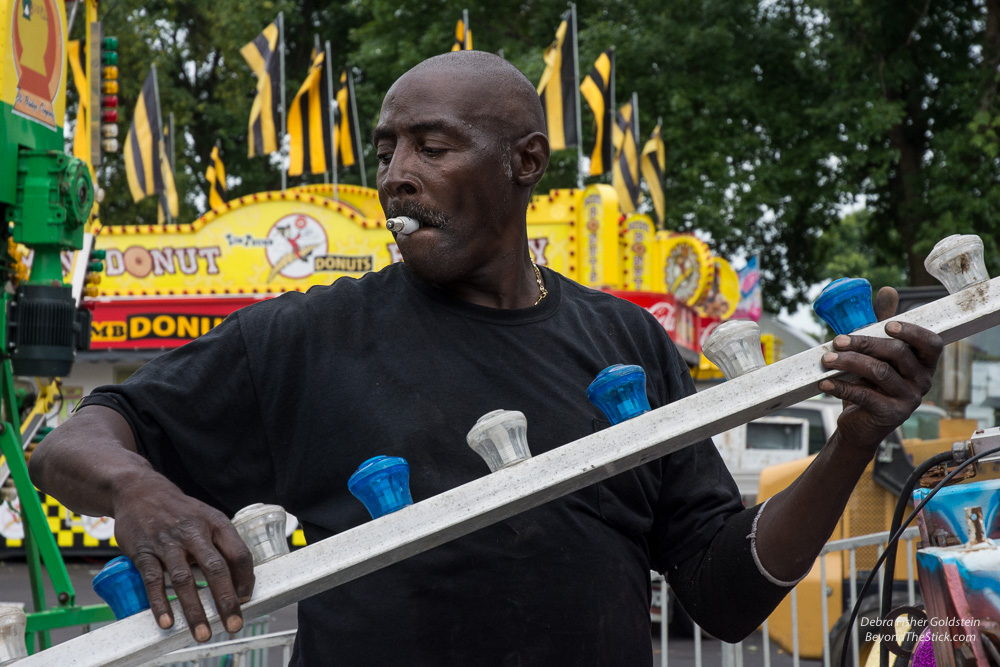 James was all about getting this ride set up and had a rhythm going loading the sweeps; I felt like I was interrupting to ask for their emails so I could send them photos. Jazzmine gave me hers right away; James seemed to ignore my request and kept working, which I took to mean he didn't have an email account. Then, uncharacteristically, he stopped loading the sweeps and disappeared for a bit. He returned with a torn piece of corrugated cardboard on which he had written his email: JEW3333 and a host account.
Because I'm Jewish, and this man was of very dark skin color which usually does not mean Jewish, at least in this country, I had to ask the man of few words: "Why JEW – in all caps?"
"Those are my initials."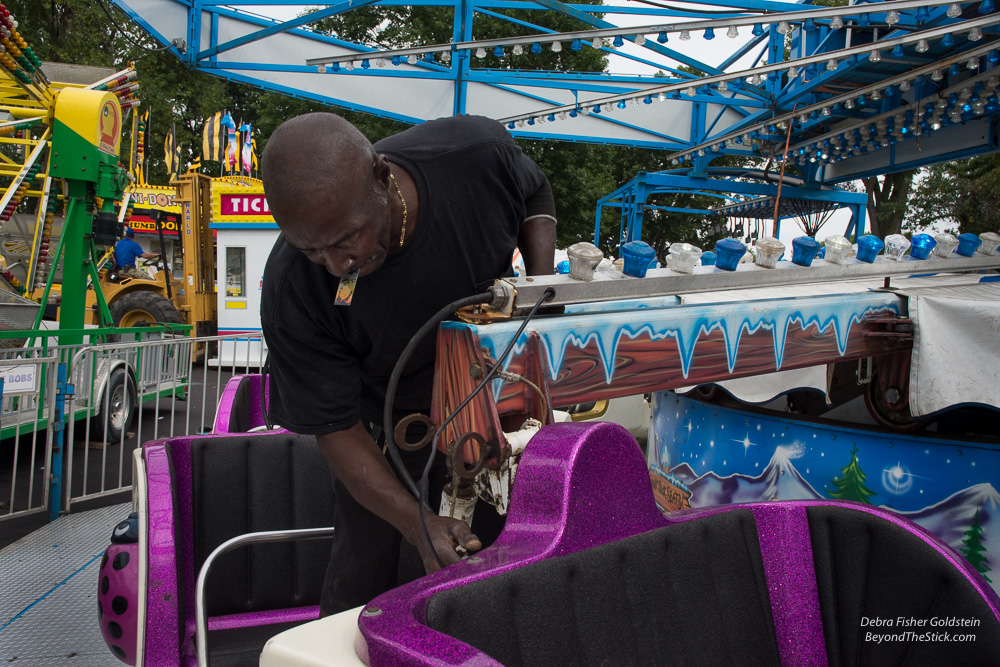 I laughed; gave him my card so he could see this story; watched as he put the card in his mouth (the same storage space he uses for lightbulbs); and let James and Jazzmine continue loading the sweeps and fixing the bulbs on the Beetle Bobs –  because soon enough they'd be working with an even larger number of small things.