Tiny Kimmie and Her L'il Darlin's
In my world, we raise 'em big.
As my husband said when we contemplated our new backyard and future family members: "Big yard. Big dog."
It is my pleasure to announce that this 'livin' large' image was selected for the Minneapolis Photo Center's juried show,
"Companionship: In Celebration of Animals."
Meet Kimberly Kentopp, of Karolaska Great Pyrenees in the state of Washington, who has bred and showed and loved some of the finest Great Pyrenees for generations. Visit Kimberly's site at karolaska.com
It has been my pleasure to photograph Kimberly and her champions at the Great Pyrenees Club of America's National Specialty shows. This image was taken in Topeka, Kansas, in the spring of 2015, as I accompanied Kim and her dogs, Dawbie and Katie, on a walk around the show grounds.
There was a lot of big love going on.
Tiny 'Kimmie' (as some old friends call her) often had to hold her ground.
But she's used to that.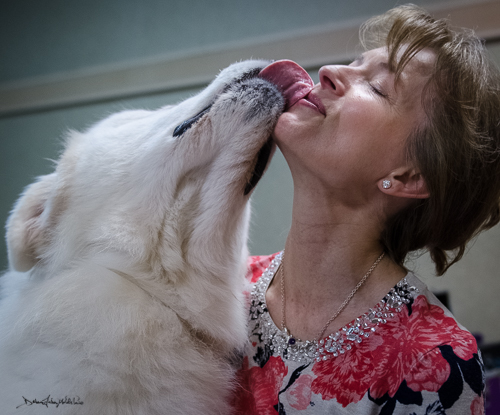 "Companionship: In Celebration of Animals" runs from August 8 through September 17, and includes a lovely variety of species seen from an amazing spectrum of viewpoints. For more information visit mplsphotocenter.com
The Minneapolis Photo Center received over 600 entries from around the country, and selected 65. It is my honor, and my joy, to be among this talented group of photographers. Thanks to judge Mary Ludington, whose ethereal, essence-of-the dog photography I adore. Indulge in Mary's website at maryludingtonphoto.com
Come see the exhibit. You will smile so big your canines will show!
Yours in joy,
Debra