Description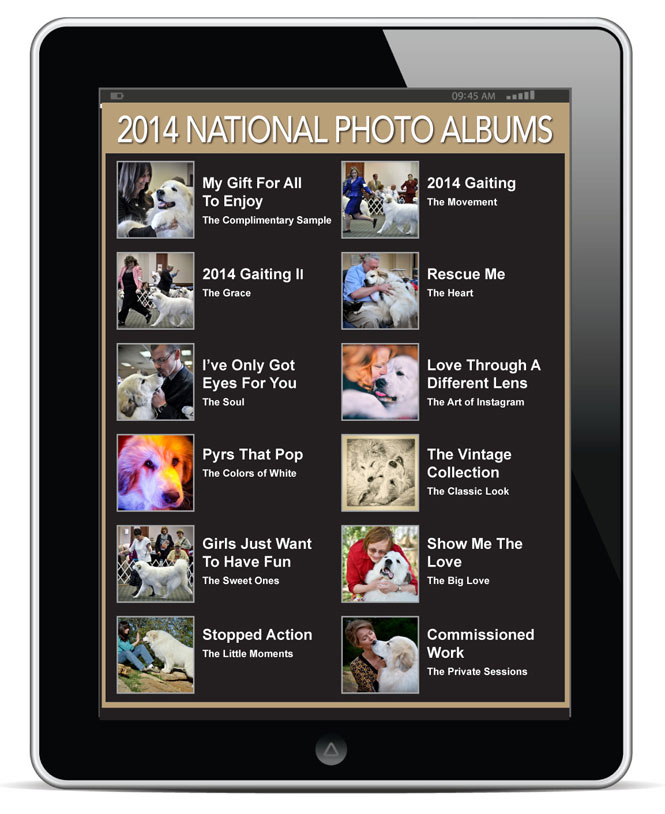 The 2014 National Specialty Souvenir Photo Albums Will Include:
A Robust Online Photo Sampler of the week at the National including Gaiting – Portraits – Candids – Fine Art
Enjoy 500+ Professionally-Created Photos of Joy, Fun, Beauty,
Movement; In and Out of the Ring
A Focus on Unique and Creative Pyr Art
Photos can be enjoyed in Easy-To-View Slide Shows or as Individual Images
Simple to Download and Share With Friends
Viewable on your Computer, Tablet, Mobile; Always With You to Show and Share
The Gift That Keeps On Giving – New Albums Posted Bi-Weekly
Full-usage rights of ALL the lo-res photos for personal and business use
NEW for the 2014 National Specialty!
To get the photos into your hands – and hearts – sooner, The 2014 Souvenir Photo Albums are now entirely electronic and will be offered ONLINE via password-protected galleries.
The first photo album will be posted within a week after the show! Then, enjoy new photos as they are posted every other week.
View them anytime – all year – they will always be online. Share them via email, FB, Pinterest – or download them to your own custom-made CD!
You can also make tee-shirts, mugs, coasters, and other gift items with your online photos.
To enjoy…..please view the Complimentary 2014 Photo Album.

Complimentary 2014 Photo Album