CONNECTED BY K9 >> GREAT PYRS & PEERS

Great Pyrs and Peers: The Community of Great Pyrenees Owners, Breeders, Handlers, and Lovers
"Great Pyrenees are like potato chips…"
Original source unknown, spoken by many a-peer
Presenting "The Puppy Playsmats"!
6 delightful images of pyrs at play as table placemats!
Enjoy the delight of puppies playing.
You're in good company at every meal!
Product Description:
Professionally, top-quality lamination with rounded corners, 11 1/2" x 17 1/2".
Titled and signed by the artist.
Placemat Titles:
"Benched"
"Home Schooled"
"Help I've Fallen And I'm Too Cute To Get Up"
"Nesting"
"Puppies Gone Wild"
"What's Yours Is Mine"
Available in my online store while supplies last.

Purchase Placemats



"We love our placemats! You'll be happy to know that the few times our place mats leave the table are only to be cleaned or on holidays when we have too many people at the table…would order more! We really DO enjoy them and …this is a testament to the joy they bring us every time we look at them."
– Larry and Nancy Carr, Washington
"Great shots! I am very impressed with your photography, and I've seen a lot of dog photography. In addition to your technical skills (and, obviously, excellent camera) you have a good eye for what makes a good photo. I can't get enough of the pictures! I'm really enjoying it."
– Catherine de la Cruz

Read More
Questions?
Feel free to email me at debra@goldfishcommunications.com
or call 612-371-4501.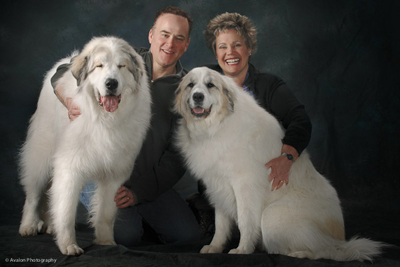 More Great Pyr Photos and Gifts: Prints, Notecards, Books & Magnets
Connected by Canine Galleries: