CONNECTED BY K9 >> GREAT PYRS & PEERS

Great Pyrs and Peers: The Community of Great Pyrenees Owners, Breeders, Handlers, and Lovers
"Great Pyrenees are like potato chips…"
Original source unknown, spoken by many a-peer
Announcing
The Collector's Edition
The Matamoras 2016 Keepsake Photo Calendar
A one-of-a-kind, limited edition, collector's gem!
For the Uber Great Pyr Lover!
I've created a Limited Edition Keepsake 2016 National Photo Calendar. I'm very proud of it.
It features over 100 of the best photos from this year's National, in an oversized, laminated, eye-popping statement piece for your wall.
This print-piece is a limited edition: First come, first served. When these pups are gone, they're gone! (to a good home, of course :)
This Great Pyr-Sized Photo Calendar measures 11×14 when closed; 22 x 14 when opened; with over 100 full color, vibrant photos from the National!
This keepsake is sure to bring joy to every month of the year. This calendar is a real statement piece of collage art. It's a robust sampler of the best looking dogs – and people – I know!
Price: Show Special! $60.00 plus s/h (post show: $80.00)

Purchase the 2016 National Calendar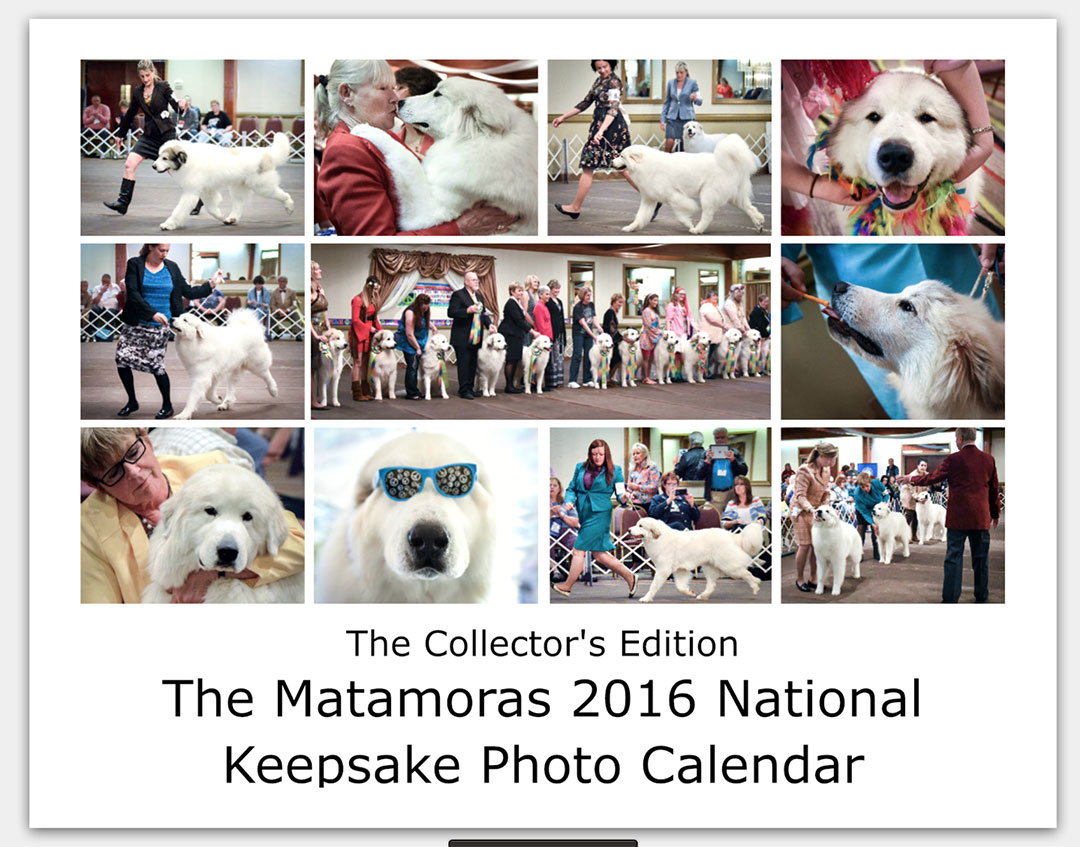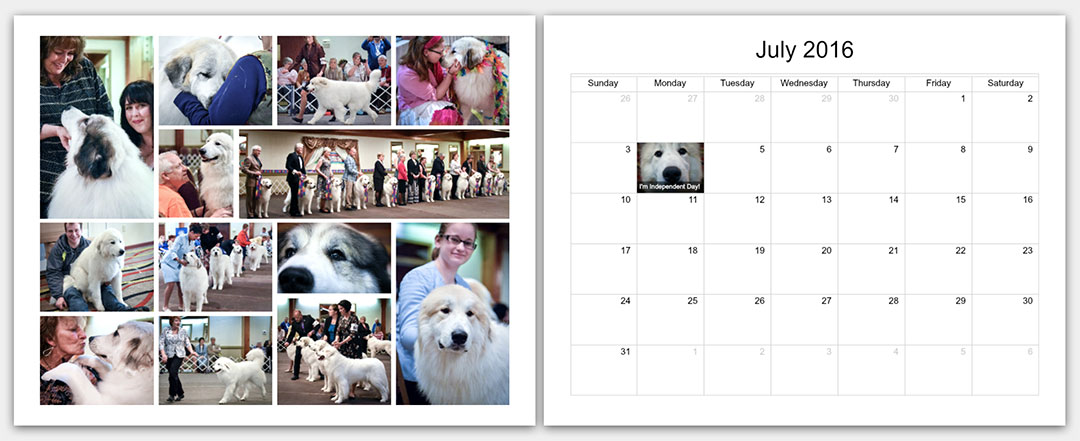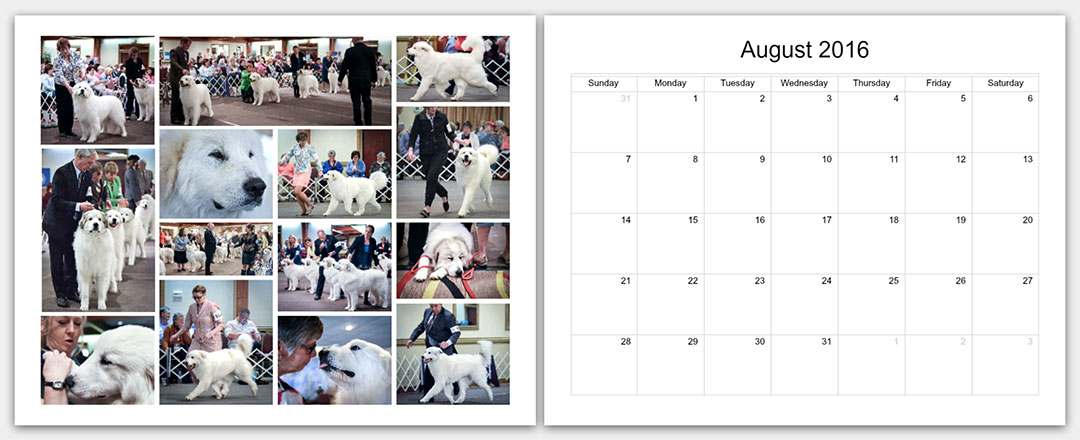 Product Description:
Features top moments of gaiting, laughing, hugging, kissing, and good humor with peers and pyrs.
Every page has 7 to 12 large photos.
When the month or year is over, the top photo page can be removed and saved.
Printed on heavy paper stock, the photo section of the calendar is laminated to eliminate finger and paw prints.
One-of-a kind, in quality, theme, and professionally photographed images! You've never seen a Great Pyrenees calendar like this!
Note: The calendar runs from July 2016 to June 2017. You will receive it in mid-June, 2016, approximately 6 weeks after the National, and just as quickly as I can curate and create this one-of-a kind calendar.

"Debra, I can't say enough good things about the Photo CD. It is wonderful. Not only is it beautiful photography, they are such poignant pictures. They made me laugh, go "aww" and brought tears to my eyes. A pure delight."
– Judy Brown
"Great shots! I am very impressed with your photography, and I've seen a lot of dog photography. In addition to your technical skills (and, obviously, excellent camera) you have a good eye for what makes a good photo. Thanks for doing the CDs. I can't get enough of the pictures! I'm really enjoying it."
– Catherine de la Cruz

Read More
Questions?
Feel free to email me at debra@goldfishcommunications.com
or call 612-371-4501.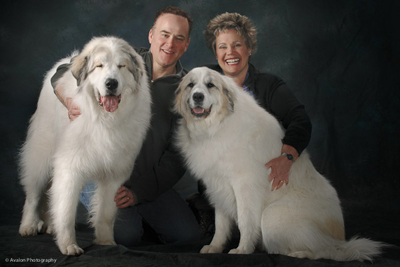 More Great Pyr Photos and Gifts: Prints, Notecards, Books & Magnets
Connected by Canine Galleries: