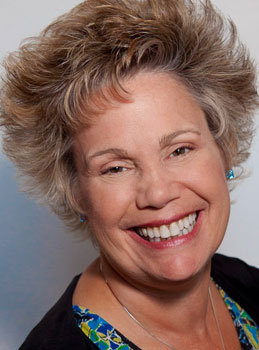 About Me And You
"We are a social people, creating remarkably creative communities around our passions, our pursuits, our play.
The breadth, depth, and enthusiasm in these varied communities have captured my eye, held my heart, taken my breath away, left me amazed and sometimes puzzled and amused by what we humans do. My contribution is to share the life in these moments, when the human interactions of joy, beauty, and companionship lift us up. We thrive when 1+1 = 3."
As the creator of smartly-captioned photos and photo essays that grab the eye and hold the heart of your attention-challenged audience, Debra Fisher Goldstein celebrates the rich communities that we, as social beings, create.
Prior to her photography and writing work, Debra spent 20+ enjoyable years helping businesses and organizations with their marketing communications and branding strategies, with a specialty in
short-form copywriting.
"Headlines, taglines, copy lines that are short and to the point, just like me."
Debra knows how to tell a micro-short story that is highly visual and quickly viral, with easy-to-share web and social media applications.
When you want to 'capture the little moments at the big events' of your family, neighbors, co-workers, staff, or volunteer community, talk to Debra. Or when your sports, philanthropic, educational, civic or corporate communities need a visual story shared, talk to Debra.
Debra Fisher Goldstein shares a passion for your passion.

Ongoing Annual Projects:

Candid Photographer for the National Specialty Shows
of the Great Pyrenees Club of America
"Capturing the moments you may have missed,
but want to remember."
gpcaonline.org/
Candid Photographer of the Minnesota State Fair, the second largest state fair in the country.
Photos used by the Minnesota State Fair Foundation, the Minnesota State Fair, assorted publications and media, www.BeyondTheStick.com.
"The iconic, the ironic, the peculiar, and the poignant: a visual feast beyond the stick."
mnstatefair.org/
msffoundation.org/

Studies:
Education:
University of Michigan, B.A.
Double major: psychology and music;
Minor: Radio, TV, Film
Post-Graduate:
Stanford University, certificate degree
in Radio, TV, Film
UCLA, studies in the
Recording Arts and Sciences
University of St. Thomas, studies in advertising and marketing communications
Photography studies:
Minneapolis Photography Center
Maine Media Workshops
Santa Fe Photography Workshops
Anderson Ranch Arts Center

A Sample of Current Community Involvement:

Board of Directors and
Communications Committee
Rimon, the Jewish Arts Council selected two years in a row for the annual list of the 50 "most inspiring and innovative organizations, projects, and programs in the North American Jewish community today" by Slingshot, a project of the Andrea and Charles Bronfman Philanthropies.
www.rimonmn.org.

Mock Interviewer and Photographer;
Twin Cities RISE!, an anti-poverty organization offering comprehensive work and soft skills training for low-income adults in the Twin Cities area, with measurably high job placement results.
www.twincitiesrise.org

Photographer, Social Media Admin; NorthStar Great Pyrenees Rescue chapter of the Great Pyrenees Club of America
http://www.northstargreatpyrs.com
The Party Line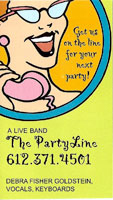 A live band
"playing all the songs you know all the lines to, so get us on the line!"
Keyboards and Vocals